Virginia Beach, VA. October 14, 2015—Divurgent is excited to announce that during the Cerner Health Conference, Divurgent and conference attendees successfully raised $2,000 to support Children's Mercy Hospital in the first few days of the conference. Sharing their passion for improving children's healthcare, Divurgent Team Members, with the help of conference attendees, celebrated the charity drive success with Children's Mercy Hospitals' Allison Abplanalp, Children's Mercy Hospital's Managing Director of Community Engagement & Events, during a signing ceremony on Tuesday.
"Children's Mercy Hospital is so thrilled to have been a part of this very fun and interactive way of raising awareness and donations to support our mission of improving the lives of children by redefining pediatric medicine. Divurgent's contributions, along with the outpouring of support from the Cerner Health Conference attendees has been truly inspiring," says Abplanalp.
Conference attendees participated in the High Roller Charity Drive, tossing or "rolling" oversized, inflatable dice in the midst of conference hustle and bustle, crossing their fingers for a 6 to achieve "High Roller" status and donate $30. Participants played an essential role, pun intended, in raising the $2,000 for a very important cause—children's healthcare.
With over 450 attendee participants, Divurgent not only quickly raised $2,000, but also raised awareness about Children's Mercy Hospital's current pediatric initiatives. "This was one of our most successful charity drives yet," said Keri DeSalvo, Divurgent's Marketing Director, "it was incredible to see so many attendees excited to be part of this important cause."
Divurgent would like to thank all of this year's Cerner Health Conference attendees who participated in the charity drive, as their support and enthusiasm made this year's charity drive for Children's Mercy Hospital our must successful yet.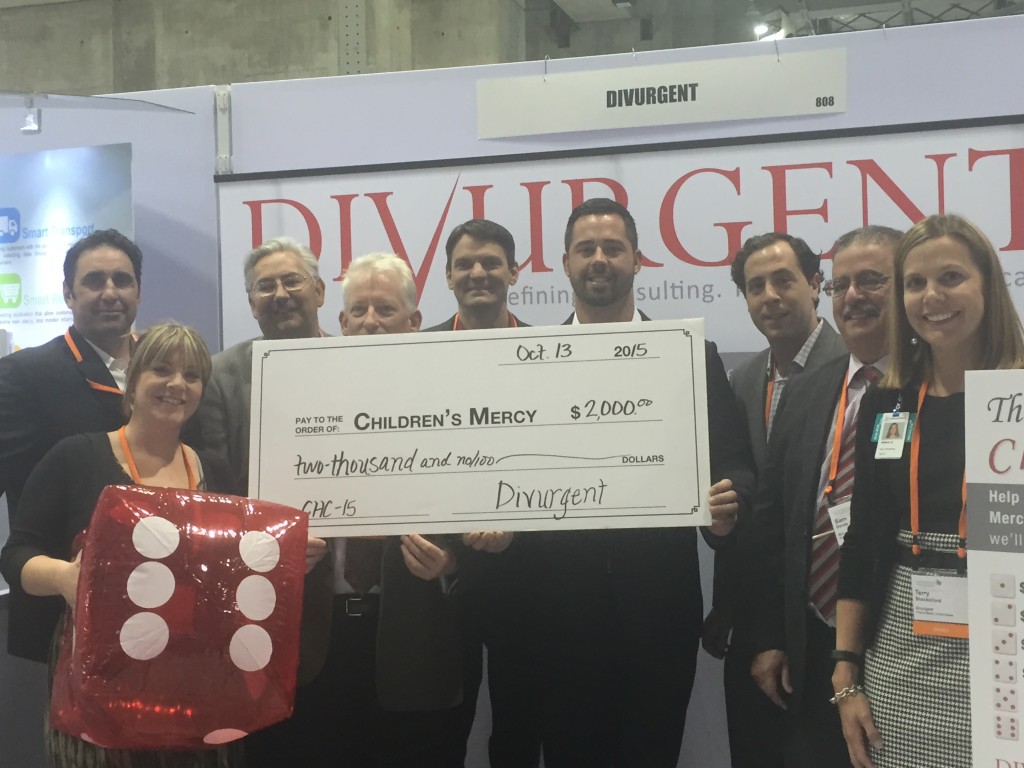 Divurgent's Community Commitment
Through contribution, partnerships, and volunteer resources, Divurgent strongly believes in giving back to the communities where we live and work. Our focus is on strengthening the quality of children's healthcare—today and for the future.
About Divurgent
Divurgent is not the typical healthcare consulting firm. As a nationally recognized company, we are committed to healthcare evolution and the strategies and processes that make it possible. We help our clients evolve in payment and delivery reform, as well as patient engagement, providing higher quality of care, lower cost of care, and healthier communities.
Focused on the business of hospitals, health systems and affiliated providers, Divurgent believes successful outcomes are derived from powerful partnerships.  Recognizing the unique culture that every organization offers, we leverage the depth of our experienced consulting team to create customized solutions that best meet our client's goals.  Utilizing best practices and methodologies, we help improve our client's operational effectiveness, financial performance, and quality of patient care.  For more information about Divurgent, visit us at www.divurgent.com
About Children's Mercy Hospital
Children's Mercy continues transforming children's lives and redefining pediatric medicine. We are the only free-standing children's hospital between St. Louis and Denver and provide comprehensive care for patients from birth to 21. Children's Mercy consistently is ranked among the leading children's hospitals in the nation. We were the first hospital in Missouri or Kansas to earn the prestigious Magnet designation for excellence in patient care from the American Nurses Credentialing Center.