Virginia Beach, VA. March 4, 2016—Divurgent is excited to announce that Divurgent and HIMSS16 conference attendees successfully raised $5,000 to support the Children's Hospital of Nevada at UMC in just the first few days of the conference, in Las Vegas. Sharing their passion for improving children's healthcare, Divurgent Team Members and conference attendees celebrated the charity drive success during a check signing ceremony Thursday, March 3, 2016 at Divurgent's booth. At past HIMSS conferences, Divurgent has helped raise money for organizations such as Ann & Robert H. Lurie Children's Hospital of Chicago (Lurie Children's), Children's Hospital of New Orleans, and the Florida Hospital for Children.
"Divurgent's focus and dedication to their Community Commitment Campaign is embedded into the culture, and our annual HIMSS charity drive is one of our favorite ways to share that commitment to children's health," said President and Chief Operating Officer, Steve Eckert. "I have to say it's a unique and uplifting experience to see participants so excited to get involved in our charity drive; it's not something you see too often at a conference."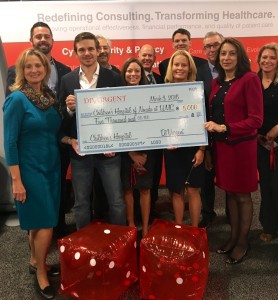 Conference attendees participated in the High Roller Charity Drive, tossing or "rolling" oversized, inflatable dice in the midst of a crowded conference floor, hoping to achieve "High Roller" status and donate up to $30. "The idea of this game was conceived with conference attendees in mind," said Keri DeSalvo, Marketing Director. "Seeing the idea come to life in the middle of the HIMSS expo and sharing our passion for children's healthcare with HIMSS attendees is always fun and it was clear that Children's Hospital of Nevada at UMC was truly touched by the wealth of support for the organization."
Divurgent not only quickly raised $5,000 for the Children's Hospital of Nevada at UMC, but also raised awareness about the organization's current pediatric initiatives. "We are home to Nevada's ONLY designated pediatric trauma center, burn center, and transplant center, and we're so honored to have Divurgent's support, along with the support of all those HIMSS attendees who participated in the charity drive," stated Danita Cohen, Executive Director, Strategic Development and Marketing at Children's Hospital of Nevada at UMC.
Divurgent would like to thank all of this year's HIMSS conference attendees who participated in the charity drive, as their support and enthusiasm continue to make these charity drives successful.
Divurgent's Community Commitment
Through contribution, partnerships, and volunteer resources, Divurgent strongly believes in giving back to the communities where we live and work. Our focus is on strengthening the quality of children's healthcare—today and for the future.
About Divurgent
Divurgent is not the typical healthcare consulting firm. As a nationally recognized company, we are committed to healthcare evolution and the strategies and processes that make it possible. We help our clients evolve in payment and delivery reform, as well as patient engagement, providing higher quality of care, lower cost of care, and healthier communities.
Focused on the business of hospitals, health systems and affiliated providers, Divurgent believes successful outcomes are derived from powerful partnerships.  Recognizing the unique culture that every organization offers, we leverage the depth of our experienced consulting team to create customized solutions that best meet our client's goals.  Utilizing best practices and methodologies, we help improve our client's operational effectiveness, financial performance, and quality of patient care.  For more information about Divurgent, visit us at www.divurgent.com
About Children's Hospital of Nevada
Children's Hospital of Nevada at UMC is devoted to making sick and injured children healthy and well by combining compassionate, family-centered care with modern technology.
Children are different. They need different health care that focuses on their unique needs, involves their parents from start to finish, and is provided in places designed to be kid-sized and child-friendly. Because they're growing and developing, children's health care needs are constantly changing. They require extra time, additional monitoring, specialized medications, and caregivers with the skills and compassion to understand the needs of children.
With this in mind, Children's Hospital of Nevada at UMC was created.
Brittany Benson, Marketing Content Manager
1.757.213.6875
757.213.6875