Virginia Beach, VA. March 5, 2014—Divurgent is pleased to announce that with the help of this year's HIMSS attendees we have successfully raised our goal of $5,000 within just a few days at the 2014 HIMSS Annual Conference and Expo, held in Orlando, Florida.  Thousands of attendees aided the Divurgent Team in raising the monies being donated to a local-Orlando children's hospital, Florida Hospital for Children.  Many attendees that participated in Divurgent's game show-themed fundraising effort gathered in support on Wednesday's check-presenting ceremony.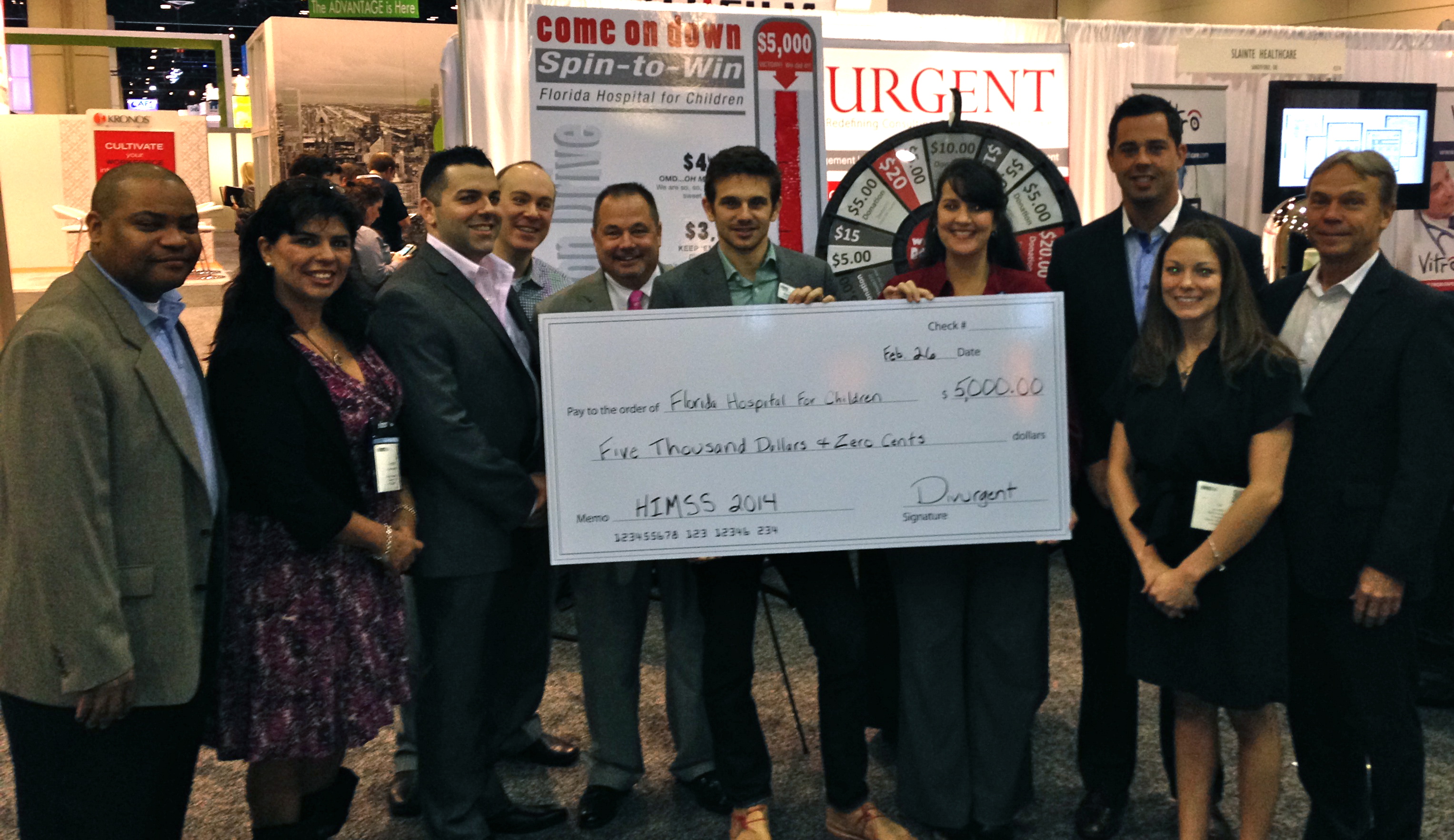 Throughout the show, Divurgent's booth featured a "Spin-to-Win" event, where participants were able to spin Divurgent's Wheel-of-Donations—the donation amounts varied from $5-$20, and whatever donation amount a participant landed on would be donated to the Florida Hospital for Children. Not surprisingly, HIMSS attendees were more than thrilled to "come on up" to Divurgent's booth to play a light-hearted game for a very important cause.
"Reaching our donation goal, and sharing the excitement with all of our friends at HIMSS is by far one of the most rewarding experiences at this year's conference. The attendees are the ones who made this goal achievable, allowing Divurgent to continue our commitment to children's health by presenting the check to Florida Hospital for Children," said Shane Danaher, Divurgent's Vice President of Business Development and Marketing.  To learn more about the Florida Hospital for Children, visit their website at https://www.floridahospitalforchildren.com.
Thanks to all the "Spin-to-Win" participants, Divurgent was able to reach their donation goal, making their record two for two at the annual HIMSS Conference and Expo, both in New Orleans and Orlando. Everyone from the Divurgent Team is looking forward to continuing their donation tradition next year in Chicago, IL for HIMSS 2015.
 About Divurgent
Divurgent is not the typical healthcare consulting firm. As a nationally recognized company, we are committed to healthcare evolution and the strategies and processes that make it possible. We help our clients evolve in payment and delivery reform, as well as patient engagement, providing higher quality of care, lower cost of care, and healthier communities.
Focused on the business of hospitals, health systems and affiliated providers, Divurgent believes successful outcomes are derived from powerful partnerships.  Recognizing the unique culture that every organization offers, we leverage the depth of our experienced consulting team to create customized solutions that best meet our client's goals.  Utilizing best practices and methodologies, we help improve our client's operational effectiveness, financial performance, and quality of patient care.  For more information about Divurgent, visit us at www.divurgent.com
Divurgent's Community Commitment.  Through contribution, partnerships, and volunteer resources, Divurgent strongly believes in giving back to the communities where we live and work.  Our focus is on strengthening the quality of children's healthcare—today and for the future.
About Florida Hospital for Children
Florida Hospital for Children is a full-service facility served by more than 130 pediatric specialists and a highly trained pediatric team of more than 1,000 caregivers and staff. This unique children's hospital provides patients with private, family-centered pediatric rooms, a dedicated pediatric emergency department and an Advanced Center for Pediatric Surgery. The Walt Disney Pavilion at Florida Hospital for Children, in Orlando, delivers a complete range of pediatric health services for younger patients including advanced surgery, oncology, neurosurgery, cardiology and transplant services, full-service pediatrics, and an innovative health and obesity platform. The 200-pediatric bed facility officially opened in March 2011.Florida Hospital has been caring for children for more than 100 years.
Press Contact:
Brittany Benson, Marketing Content Manager
1.757.213.6875
brittany.benson@divurgent.com
www.divurgent.com
www.facebook.com/divurgent
###