Virginia Beach, VA. April 20, 2015—Divurgent is excited to announce that with the help of this year's HIMSS conference attendees, Divurgent was able to reach their goal of raising $5,000 to donate to Ann & Robert H. Lurie Children's Hospital of Chicago. Divurgent's three-year tradition of donating monies to a local children's hospital of the hosting city during the annual HIMSS conference is the Team's most important goal while at HIMSS.
On Wednesday, April 15th, participating HIMSS attendees gathered to help celebrate this amazing accomplishment, as Divurgent presented Lurie Children's with their charitable donation.
"As a charitable 501(c)(3) organization, Lurie Children's relies on the philanthropic support from firms like Divurgent to continue and advance our programs, services, and research," said Jennie Cimino, Development Officer for Corporate Giving at Lurie Children's Foundation. "Divurgent's donation will go directly into the funds we use to ensure that Chicago's children receive the medical care they need."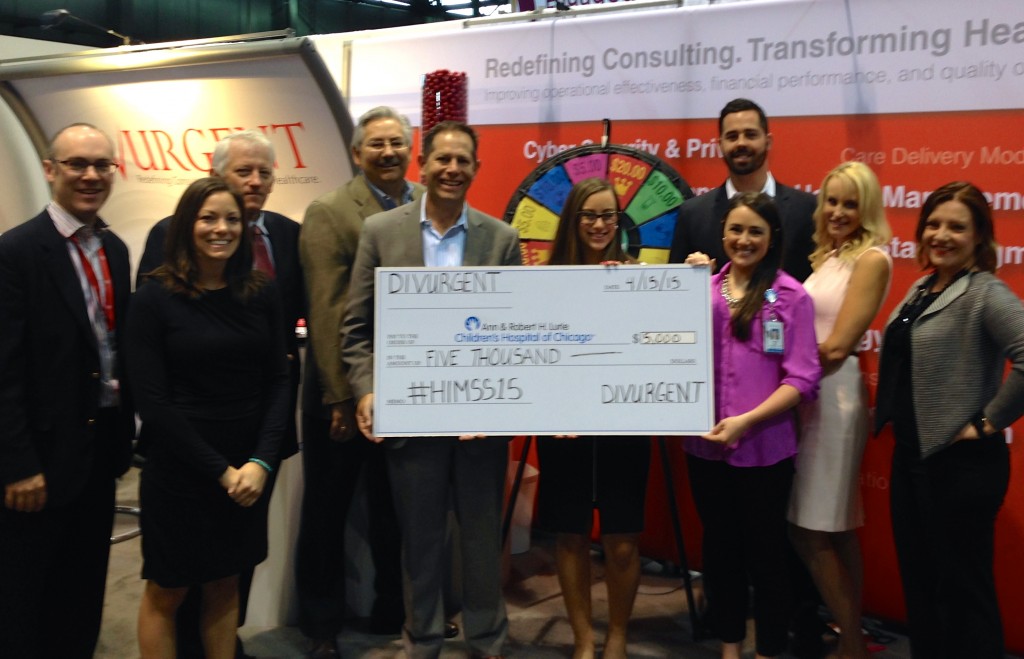 In between chapter meetings, educational sessions, and other conference events, hundreds of HIMSS attendees stopped by Divurgent's booth on the exhibiting floor to participate in our "Trivia Charity Drive," inspired by the explosively popular Trivia Crack mobile app game. Eager to test their trivia skills, participants lined up to spin the Trivia Charity Wheel and see what question and donation amount they would land on–donation amounts varied from $5-$20.
"We saw a great crowd come through, and we always get such a supportive response from attendees as children's healthcare is something near and dear to so many of us in healthcare; our game-show inspired trivia fundraiser is a fun way to get everyone at the conference involved in giving back and improving children's healthcare," said Colin Konschak, Managing Partner at Divurgent.
Divurgent's Team is proud to continue our Community Commitment Campaign in Chicago, and thank all of the participants for their help in reaching the donation goal. We will be carrying on our charity drive game-show inspired tradition to Las Vegas, during the HIMSS 2016 Conference.
About Divurgent
Divurgent is not the typical healthcare consulting firm. As a nationally recognized company, we are committed to healthcare evolution and the strategies and processes that make it possible. We help our clients evolve in payment and delivery reform, as well as patient engagement, providing higher quality of care, lower cost of care, and healthier communities.
Focused on the business of hospitals, health systems and affiliated providers, Divurgent believes successful outcomes are derived from powerful partnerships.  Recognizing the unique culture that every organization offers, we leverage the depth of our experienced consulting team to create customized solutions that best meet our client's goals.  Utilizing best practices and methodologies, we help improve our client's operational effectiveness, financial performance, and quality of patient care.  For more information about Divurgent, visit us at www.divurgent.com
Divurgent's Community Commitment
Through contribution, partnerships, and volunteer resources, Divurgent strongly believes in giving back to the communities where we live and work. Our focus is on strengthening the quality of children's healthcare—today and for the future.
About Ann & Robert H. Lurie Children's Hospital of Chicago
Ann & Robert H. Lurie Children's Hospital of Chicago, formerly Children's Memorial Hospital, provides superior pediatric care in a setting that offers the latest benefits and innovations in medical technology, research and family-friendly design. As the largest pediatric provider in the region with a 130 year legacy of excellence, kids and their families are at the center of all we do. Learn more about our family-centered approach to care. For more information about Lurie Children's Hospital of Chicago, please visit www.luriechildrens.org
Press Contact:
Brittany Benson, Marketing Content Manager
1.757.213.6875