Virginia Beach, VA. May 13, 2016—At Divurgent's Company Retreat, held late last month in the music capital of the world Austin, Texas, the Team held a friendly, musically themed competition for the chance to donate $5,000 to Dell Children's Medical Center of Central Texas, the only dedicated freestanding pediatric facility in the region.
Divurgent's Company Retreat brings our entire Team together from around the country to continue to foster a company culture that inspires! Always focused on our Community Commitment Campaign and dedication to improving children's healthcare, one of Divurgent's favorite retreat traditions is to hold a friendly competition where the winners present a $5,000 check to a local children's hospital.
This year, the retreat held a Singer/Songwriter Team Building Contest, where the Divurgent Team broke out into groups, paired with an Austin-based singer-songwriter, to write and perform a song about Divurgent's ELITE Values—Excellence, Learning, Innovation, Trust, and Enthusiasm. With an unbiased panel of judges, it was unanimously decided that each group had a chart-topping song on their hands, and all Team Members were awarded the opportunity to present the $5,000 donation to Dell Children's Medical Center of Central Texas, represented by Dr. Caron Farrell, Medical Director, Healthy Living Happy Living Program, and Armando Zambrano, Director of Annual Giving.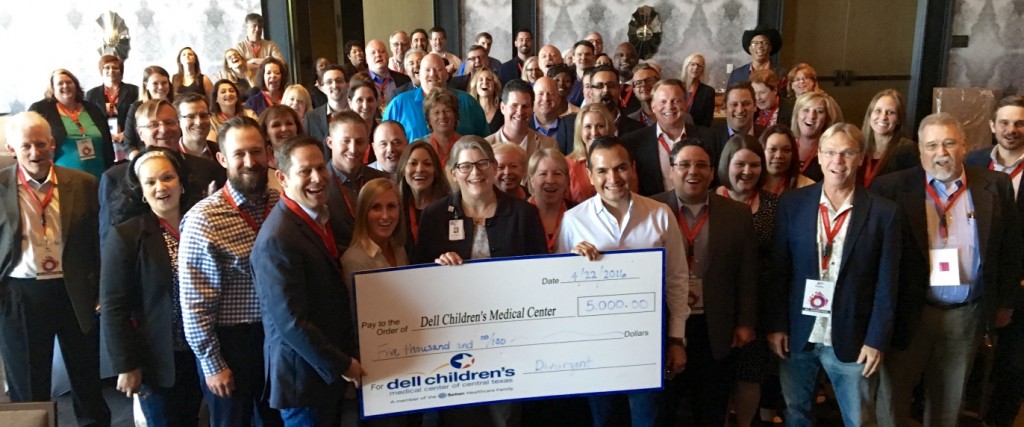 "Our company retreat is important for so many reasons; giving back is ingrained in our company culture, and that's why this part of our time together was so special to us all," said Steve Eckert, President and COO. "The passion for what we do and the dedication to our ELITE values was evident in every melody, and I have to say that while we have a talented team, and I say this with love, I don't think we are losing anyone to the music industry anytime soon."
Divurgent would like to thank all of our Team Members who were able to attend the retreat and for helping us build a strong Team with an ELITE culture. The passion, dedication, and integrity of our Team is the foundation of our success, and we look forward to welcoming everyone again at the next retreat.
Visit our YouTube page to watch each Team's catchy tune about our Divurgent ELITE Values!
About Divurgent
Divurgent is not the typical healthcare consulting firm. As a nationally recognized company, we are committed to healthcare evolution and the strategies and processes that make it possible. We help our clients evolve in payment and delivery reform, as well as patient engagement, providing higher quality of care, lower cost of care, and healthier communities.
Focused on the business of hospitals, health systems and affiliated providers, Divurgent believes successful outcomes are derived from powerful partnerships.  Recognizing the unique culture that every organization offers, we leverage the depth of our experienced consulting team to create customized solutions that best meet our client's goals.  Utilizing best practices and methodologies, we help improve our client's operational effectiveness, financial performance, and quality of patient care.  For more information about Divurgent, visit us at www.divurgent.com
About Dell Children's Medical Center of Central Texas
Dell Children's Medical Center of Central Texas, the only dedicated freestanding pediatric facility in the region. Serving a 46-county area and beyond, Dell Children's is the premier health care provider for children and adolescents.
Kids are different and so is Dell Children's. Children are not small adults. They have unique healthcare needs. Statistics show that children heal faster when treated in a children's hospital. At Dell Children's, we treat each of our patients with:
Extra time
Extra monitoring
Equipment, medications, and doses according to body size
Specialized pediatric medical skills and compassion
Access to family throughout the entire hospital stay
Press Contact:
Brittany Williams
Marketing Director
757.213.6875
Brittany.williams@divurgent.com