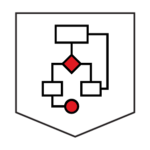 Understanding your customer populations, from how they interact with your brand, to what market opportunities you may missing, to customer gaps, having a better understanding of and roadmap for your external data will better position your organization to lead the pack, increase revenue, and drive higher levels of customer satisfaction.
Consumerism Technology Strategy Development
In healthcare today, organizations cannot afford to view patients as a single service or encounter, but rather view all interactions as part of a holistic, consumerism-driven relationship. As part of that, competitive organizations will place focus on the non-care interactions that occur from marketing campaigns, call center outreach, care provision and coordination, even the billing and collections process. Mature organizations must value each touch point to nurture a healthy relationship in order to ensure loyalty exists between customer and organization. Technology is a key critical aspect of that relationship, and Divurgent's solutions give our clients the roadmap to develop and navigate strategies around consumerism technology that will position them more strategically in the marketplace.  
Market Opportunity Assessment
There is a wealth of market data available to inform decisions around consumer acquisition and your market-specific competitive landscape. In order to gain the most value from its use, data should be consolidated with your organization's proprietary data already possessed, paired with external-to-your-organization market data. Our External Data Engagement solutions use powerful analytics and data interpretation strategies to offer clients a holistic view of their market position, current state, and establish a roadmap for positioning themselves as a market leader and increase net-new patient acquisition.  
Ready to Learn More?
A bit more information will help our experts contact you to create your customized solution.